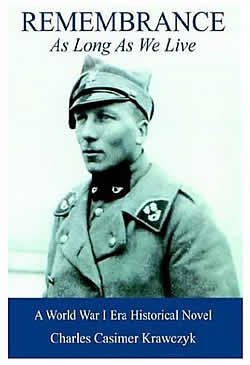 Remembrance
As Long As We Live
by Charles Casimer Krawczyk
May 2006, 428 pages
Size: 6"x9"

Written and published as a labour of love, Charles' goal is to see the story of the men who served in the Haller Army preserved ( his father was a volunteer). We have partnered to sell them via HallersArmy.com and sales help support this site.


Climb aboard for a great ride and a nice glimpse into the world of these great Polish patriots who were our fathers, grandfathers, uncles and more! This historical novel is based on the Polish Air Corps in France in WW1 and follws them into the Polish Soviet War of 1919-1920.
Its fictional storyline provides a historical account of the struggles of a Polish-American volunteer army and its Air Corps in WWI and then later as joined by other American airmen against the Bolshevik invasion of Poland in 1920. Based in part on his father's life, Charles Casimer Krawczyk tells the powerful story of Poland's martyred history and its struggles for independence.
The novel follows its main character on his journey from a young peasant boy in Galicia to an immigrant in a strange new land (Buffalo), to a recruit in the Blue Army of General Haller in France.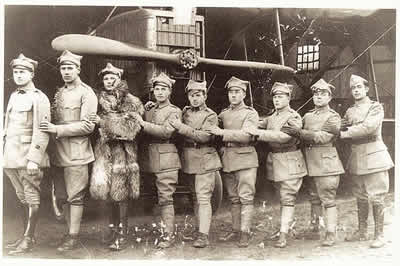 From the Author:
In the "August Madness" of 1914, most of Europe was at war. They, of the forgotten Polish Blue Army Air Corp, soared as eagles in their rickety crates, through two wars, their wings straining and guy wires screaming as their machine guns chattered and bombs dropped in support of ground wars.
By a combination of historical facts and fiction the human drama of the times is brought to life through the struggles of a young Polish farm peasant. To avoid Austrian army conscription he immigrated to the United States, but nevertheless became a part of the obscure Canadian-trained, American-immigrant Blue Army (Haller's Army). Under the command of the French, they fought the tragically devastating battles of the trenches. Transferred to its newly formed air corps, he became an airman. Facing the German Fokker scourge with each flight, the airman's mortality rate became greater than that of the trenches. Most barely lasted weeks, few became aces.
After Armistice, the surprised Blue Army Air Corps was transferred to Poland, now as part of the country's air force. A group of veteran pilots from the American Air Corps also appeared in Poland, volunteered their services, and created the Kosciuszko Squadron.
Sponsored Items:
Kosciuszko Squadron Model Plane